Solve Your Drainage Problems with French Drains
Has the rain transformed your lush lawn into a pool? Flooding outside your property can be a nightmare as it can lead to extensive foundation damage so now is the perfect time to look at your drainage options.
Your drainage problems can be fixed simply and cost effectively with french drains. GRH Plumbing are professional drainage plumbers and we have vast experience in assessing drainage issues and providing effective drainage solutions. We consistently aim to go above and beyond with our workmanship and service, which always provides exemplary customer satisfaction.
Book Expert French Drain Plumbers
Call us at 0407 121 316 or fill out the form to make an enquiry.
What are French Drains?
A French drain is a sloping perforated pipe that is buried in gravel to direct water away from your property. It is a proven solution to flooding gardens or pooling water as well as being simple to install, cost effective and efficient. Where traditional box drains only in one spot, french drains collect rainwater along the full length of the drain. This is much more preferable for your lawn as there won't be any dip from pooled water in the lawn around the drain as you get from box drains.
What are the signs that I have drainage issues?
What starts as some surface pooling in your garden can actually lead to some serious damage to your property including structural damage. Insufficient drainage can be identified by:
Water pooling on your lawn

Water flowing over your gutters

Soil erosion

Top soil moving when it's raining

Damp stains on your walls or floors

Cracks in your retaining walls

Foul odours
How is a French Drain installed?
Whilst we have said that the installation of french drains is simple, we mean for the professionals! To install a French drain, our drainage experts start by analysing your garden for the most effective placement of the drain for optimum drainage efficiency. Our GRH plumbers then execute the following steps:
Dig the trench

Arrange the filter fabric in the trench with enough to wrap around the pipe

Put a small amount of gravel in at the bottom

Install the perforated pipe with at least 1% downward slope

Cover the pipe with more gravel over the pipe and wrap the fabric around the pipe and gravel

Finish with gravel or soil if you wish for turf to be planted over the pipe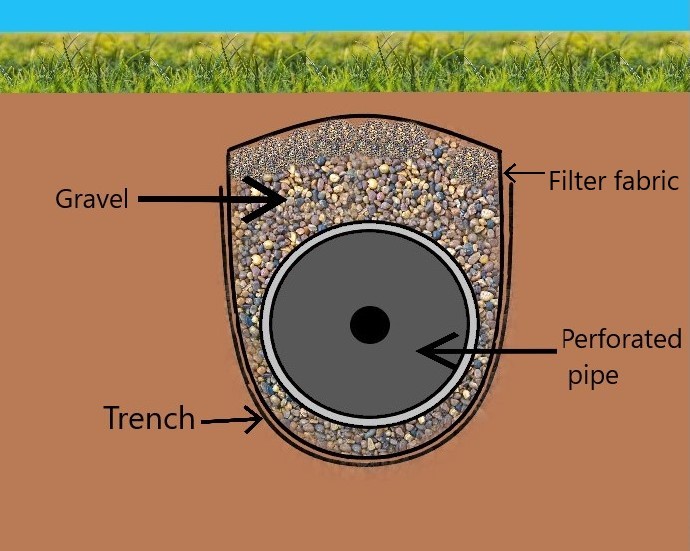 Your local Sydney French drain experts
Let your local plumbing professionals install your french drains. You can count on us to resolve your drainage issues. For all your French drain requirements, call our friendly team today on 0485 814 450 or complete our quick online plumber booking request form.